Stay on the move
We may offer Express Maintenance. Contact our staff at Galleria Toyota. It's the convenience of a 'while you wait' full logbook service.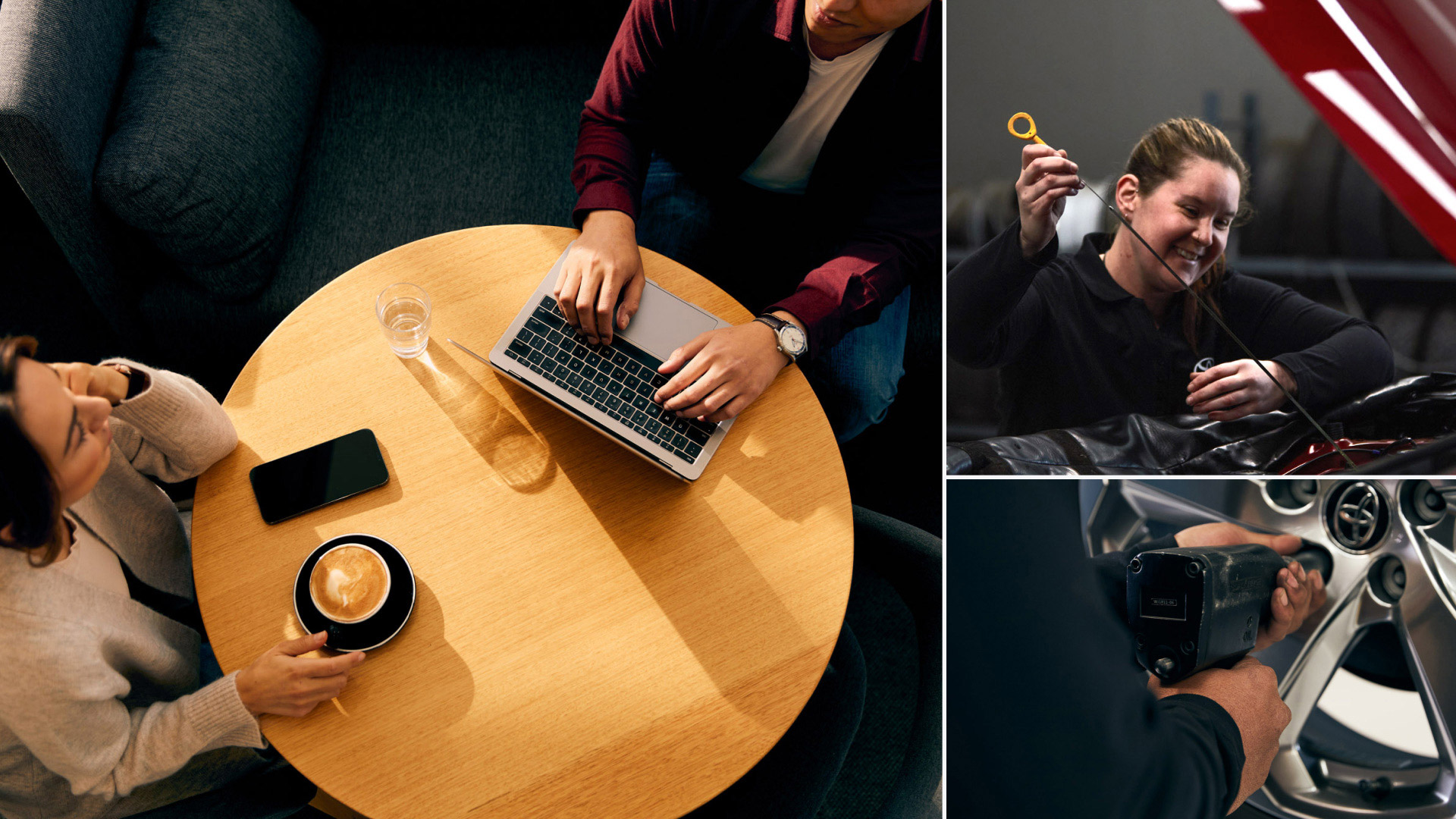 Choose a time that suits
We give you the choice to pick the time the work will be done. Perfect if you can't afford to be without your Toyota for a whole day.
Twice as fast
To help ensure your service is done in your allotted time we assign two Toyota Technicians to your vehicle.
Enjoy the lounge
While you wait for your Toyota you're welcome to get comfortable in our lounge facilities.
Choose Toyota Express Maintenance
Rest assured that all services are carried out by Toyota trained technicians and use Toyota Genuine Parts. To add a Toyota Express Maintenance to your booking simply select the option when you book online or through the myToyota app.
✓ Service your Toyota while you wait with Toyota Express Maintenance
A comprehensive vehicle service, specific to your vehicle model and your vehicle's age and kilometres driven.
✓ Engine oil and filter change
Latest oil technology used in your vehicle as recommended by Toyota.
✓ Brake inspection
Peace of mind knowing that your brakes will leave our service centre working as they should.
✓ Tyre rotation
Maximise the life of your tyres with rotation being part of each service.
✓ Multi-point inspection
Inspect all mounting points, hose connections, suspension and fuel system.
✓ Inspect and adjust fluid levels
Keeping all of your vehicle's fluids at the correct level helps ensure trouble free motoring.
✓ Brake inspection
We only use parts that are designed and tested specifically for your vehicle which helps keep your vehicle running smoother for longer. They're also covered by the Toyota Warranty Advantage.[T2]
Service Your Car here at Galleria Toyota
Book your service and experience Toyota Express Maintenance.
Frequently asked questions
---
[T2] Toyota Genuine Parts/Accessories purchased at & fitted by a Toyota dealer to a Toyota vehicle which was purchased on or after 01/01/2019, are warranted for the remainder of that vehicle's Toyota Warranty Advantage period, or 2yrs from installation (whichever is greater). Genuine Parts/Accessories purchased from, but not fitted by, a Toyota dealer are warranted for 2yrs from date of purchase. See toyota.com.au for T&Cs. This warranty does not limit & may not necessarily exceed your rights under the Australian Consumer Law.
[T5] Applicable to new vehicles used for a commercial purpose, such as taxis, hire vehicles and vehicles transporting people or goods for payment including rideshare, delivered on or after 01/01/2019. The commercial vehicle Toyota Warranty Advantage period is for 5 years from delivery or 160,000kms (whichever occurs first). See toyota.com.au/owners/warranty or your vehicle's Warranty and Service Book for T&Cs. This warranty does not limit and may not necessarily exceed your rights under the Australian Consumer Law.